All the New Jh: March Edition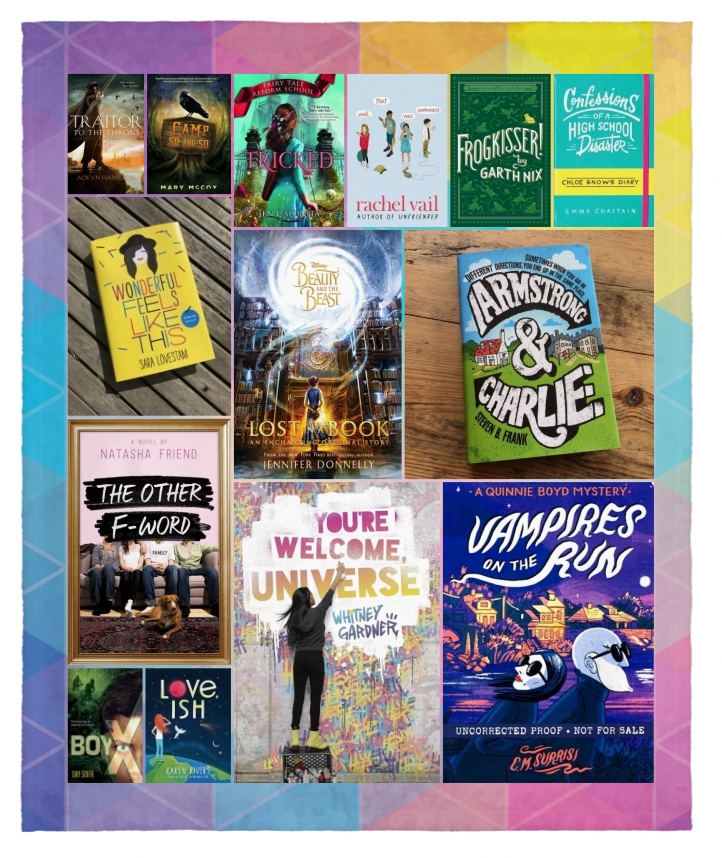 Armstrong & Charlie by Steven B. Frank | Jh FRA
Charlie isn't looking forward to sixth grade. After all, if he starts sixth grade, chances are he'll finish it. And when he does, he'll be older than his older brother ever was. Armstrong isn't looking forward to sixth grade, either. This year, he'll have to wake up at 5:30 to ride a bus to an all-white school in the Hollywood Hills. When Armstrong and Charlie are assigned seats next to each other, what starts as a rivalry becomes a close friendship. Set in Los Angeles in the 1970s, Armstrong and Charlie is the hilarious, heartwarming tale of two boys from opposite worlds. Different, yet the same. 
Beauty and the Beast: Lost in a Book by Jennifer Donnelly | Jh DON
Smart, bookish Belle, a captive in the Beast's castle, has become accustomed to her new home and has befriended its inhabitants. When she comes upone Nervermore, an enchanted book unlike anything else she has seen in the castle, Belle finds herself pulled into its pages and transporterd to a world of glamour and intrigue. The adventures Belle has always imagined, the dreams she was forced to five up when she became a prisoner, seem within reach again.
Boy X by Dan Smith | Jh SMI
His mother is a scientist. His dad was a soldier. Ash is something new altogether. Kidnapped, Ash wakes up on a remote tropical island. Why is her there? What is this medical facility around him? Most important, what's happening to him? Ash needs answer. He has 24 hours to get them.
Camp So-and-So by Marcy McCoy | Jh MCC
The letters went out in mid-February. Each letter invited its recipient to spend a week at Camp So-and-So, a lakeside retreat for girls nestled high in the Starveling Mountains. Each letter came with a glossy brochure with photographs of young women climbing rocks, performing Shakespearean theatre under the stars, and spiking volleyballs. Each letter was signed in ink by the famed and reclusive businessman and philanthropist, Inge F. Yancey IV. Had any of the girls tried to follow the directions in the brochure and visit the camp for themselves on that day in February, they would have discovered that there was no such town and no such mountain and that no one within a fifty-mile radius had ever heard of Camp So-and-So.
Confessions of a High School Disaster: Chole Snow's Diary by Emma Chastain | Jh CHA
I'm Chloe Snow, and my life is kiiiiind of a disaster. Mom says the only thing sadder than remembering is forgetting, so I'm going to write down everything that happens to me in this diary. That way, even when I'm ninety, I'll remember how awkward and horrible and exciting it is to be in high school.
Fairy Tale Reform School Book 3: Tricked by Jen Calonita | Jh CAL
Gilly's little sister Anna lands in reform school just in time to greet the strict new headmaster.
Frogkisser! by Garth Nix | Jh NIX
The last thing she needs is a prince. The first thin she needs is some magic. Poor Princess Anya. Forced to live with her evil stepmother's new husband, her evil stepstepfather. Plagued with an unfortunate ability to break curses with a magic-assisted kiss. And forced to go on the run when her stepstepfather decides to make the kingom his own. Auded by a loyal talking dog, a boy thief trapped in the body of a newt, and some extraordinary wizards, Anya sets off on a Quest.
Love, Ish by Karen Rivers | Jh RIV
Ish is convinced that she'll be one of the first settlers on Mars. She's applied to—and been rejected from—the Mars Now project forty-seven times, but the mission won't leave for ten years and Ish hasn't given up hope. She also hasn't given up hope that Tig will be her best friend again (not that she'd ever admit that to anyone, least of all herself). When Ish collapses on the first day of seventh grade, she gets a diagnosis that threatens all her future plans. As Ish fights cancer, she dreams in vivid detail about the Martian adventures she's always known she'd have—and makes unexpected discoveries about love, fate, and her place in the vast universe.
The Other F-Word by Natasha Friend | Jh FRI
Thanks to Twin Citys Cryolab, Hollis and Milo were conceived using the same sperm donor. They met once, years ago. When Milo's doctor suggests asking his biological father to undergo genetic testing to shed some light on Milo's extreme allergies, he realizes this is a golden opportunity to find the man he's always wondered about. He reaches out to Hollis to help him find their donor. Along the way, they locate three other donor siblings, and they discover the true meaning of the other F-word: family.
Traitor to the Throne by Alwyn Hamilton | Jh HAM
A Rebel of the Sands Novel: Mere months ago, gunslinger Amani al'Hiza fled her dead-end hometown on the back of a mythical horse with the mysterious foreigner Jin, seeking only her own freedom. Now she's fighting to liberate the entire desert nation of Miraji from a bloodthirsty sultan who slew his own father to capture the throne. When Amani finds herself thrust into the epicenter of the regime—the Sultan's palace—she's determined to bring the tyrant down. Desperate to uncover the Sultan's secrets by spying on his court, she tries to forget that Jin disappeared just as she was getting closest to him, and that she's a prisoner of the enemy. But the longer she remains, the more she questions whether the Sultan is really the villain she's been told he is, and who's the real traitor to her sun-bleached, magic-filled homeland.
Vampires on the Run by C. M. Surrisi | Jh SUR
Two suspicious writers from New York arrive in Quinnie Boyd's small Maine town. They claim to be the confidants of a vampire count. But Quinnie begins to wonder if the authors are vampires themselves.
Well, That Was Awkward by Rachael Vail | Jh VAI
There are unexpected consequences when thirteen-year-old Gracie sends texts pretending to be her bashful best friend, Sienna, and their friend Emmett starts texting back pretending to be shy A.J. Tall and weirdly good-looking A.J. makes Gracie feel ways she's never felt before. But it turns out A.J. likes Gracie's beautiful best friend, Sienna. Obviously Gracie is happy for Sienna, and helps her compose the best texts, responding to A.J.'s surprisingly funny and appealing texts, just as if she were Sienna. Gracie has had lots of practice being the sidekick, but this time she find that even with all the heartbreak, there can be explosions of hope and moments of perfect happiness.
Wonderful Feels Like This by Sara Lövestam | Jh LOV
For Steffi, going to school everyday is an exercise in survival. She's never fit in with any of the groups at school, and she's viciously teased by the other girls in her class. The only way she escapes is through her music -- especially jazz music. When Steffi hears her favorite jazz song playing through an open window of a retirement home on her walk home from school, she decides to go in and introduce herself. The old man playing her favorite song is Alvar. When Alvar was a teenager in World War II Sweden, he dreamed of being in a real jazz band. Then and now, Alvar's escape is music—especially jazz music. Through their unconventional but powerful friendship, Steffi comes to realize that she won't always be stuck and lonely in her town. She can go to music school in Stockholm. She can be a real musician. She can be a jitterbug, just like Alvar. But how can Steffi convince her parents to let her go to Stockholm to audition? And how is it that Steff's school, the retirement home, the music, and even Steffi's worst bully are somehow all connected to Alvar? Can it be that the people least like us are the ones we need to help us tell our own stories?
You're Welcome, Universe by Whitney Gardner | Jh GAR
When Julia finds a slur about her best friend scrawled across the back of the Kingston School for the Deaf, she covers it up with a beautiful (albeit illegal) graffiti mural. Her supposed best friend snitches, the principal expels her, and her two mothers set Julia up with a one-way ticket to a "mainstream" school in the suburbs, where she's treated like an outcast as the only deaf student. The last thing she has left is her art, and not even Banksy himself could convince her to give that up. Out in the 'burbs, Julia paints anywhere she can, eager to claim some turf of her own. But Julia soon learns that she might not be the only vandal in town. Someone is adding to her tags, making them better, showing off—and showing Julia up in the process. She expected her art might get painted over by cops. But she never imagined getting dragged into a full-blown graffiti war.