I Love My Lisle Library Card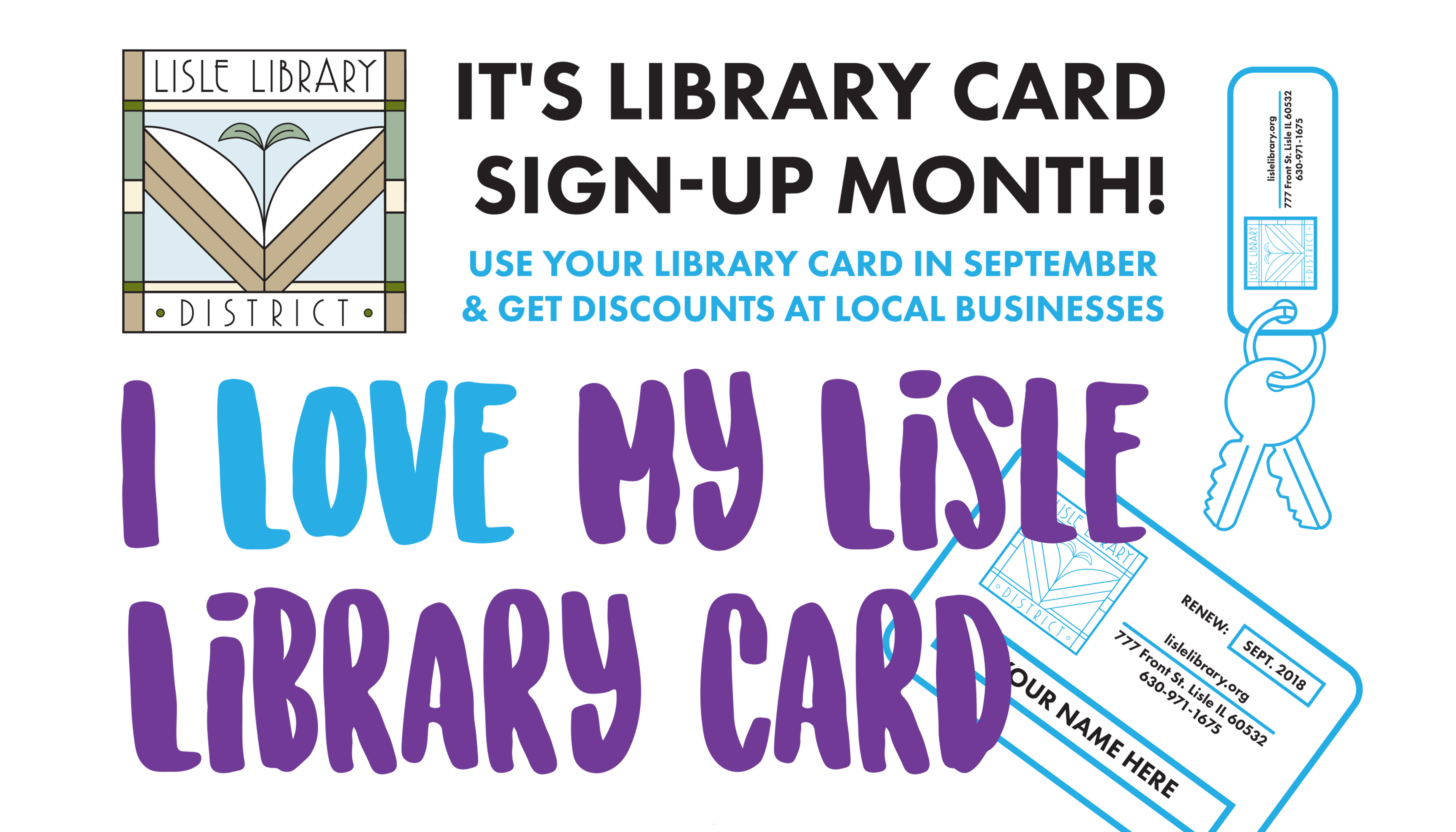 Need a new Library card?
Need to renew an existing card?
September is National Library Card Sign-Up Month!
September is also the month to love your Library card when you receive discounts at over 30 Lisle-area businesses. Just show a valid Lisle Library card when you visit one of these businesses and the discount will be applied at checkout. If you want to participate, just follow these three simple steps:
1) Register for a card at the Library. (bring a photo ID and proof of residence)
2) Visit local businesses.
3) Get discounts with your Library Card!
Be sure to tell other LLD residents that they can enjoy these benefits. Also, if you register or renew your card in September, you'll be eligible for a drawing for a gift package from local businesses. Bring a friend to register, and you'll each receive two entries!
Click on each participating business below to see the discount:
4A Song Vinyl & Jukeboxes
Discount: 10% off and free bookmark with purchase.
Address: 1045 Burlington Ave., Ste. 6
Phone: (630) 442-7985
Apolis Greek Street Food
Discount: 10% off.
Address: 1109 Maple Ave.
Phone: (331) 715-2135.
Aqua-Tots Swim Schools
Discount: One free swim lesson.
Address: 1245 E. Butterfield Rd. (Wheaton)
Phone: (630) 348-6550
Bicycles, Etc.
Discount: 10% all labor.
Address: 6460 College Rd.
Phone: (630) 369-2453
Bright Horizons
Discount: $50 credit towards October tuition, plus waived registration fee for new enrollment (value of $150).
Address: 4225 Naperville Rd., Ste. 170
Phone:  (630) 955-1600
ClaySpace Ceramic Arts Center & Gallery
Discount: 10% off one gallery item.
Address: 740 Front Street
Phone: (630) 393-2529
Costco
Discount: Receive a $20 Costco Cash Card when you join as a new Executive Member, or a $10 Costco Cash Card when you join as a new Gold Star Member.
(Valid at Naperville Costco)
Address: 1320 S. Rt. 59
Phone: (630) 328-2900
Coughlin-Schillo Team at RE/MAX Action
Discount: Any new client that signs a listing or buyer's agreement with Pat Coughlin during September will receive a $300 Visa gift card at closing.
Address: 1550 Maple Ave.
Phone: (630) 330-1430
Country House Restaurant
Discount: 10% discount (food only). Valid after 4 PM Monday-Sunday, one discount per table, cannot be combined with other offers.
Address: 2799 Maple Ave.
Phone:(630) 325-1444
Culver's of Downers Grove
Discount: 10% off purchase.
Address: 2500 Ogden Ave. (Downers Grove)
Phone: (630) 434-9401
Dick Pond Athletics
Discount: 10% off anything in store. (Valid at Lisle location)
Address: 2775 Maple Ave.
Phone: (630) 357-6884
Doctor's Center for Integrative Wellness
Discount: 25% off acupunture services.
Address: 1025 Ogden Ave.
Phone: (630) 960-9355
Fireplace & Chimney Authority
Discount: 10% off any in-stock item (limit one per customer, please). Valid at the Lisle location.
Address:1702 Ogden Ave.
Phone: (630) 969-8800
Flowers of Lisle
Discount: 10% off purchase (cash-n-carry only).
Address: 4728 Main St.
Phone: (630) 968-3330
Fox Restaurant
Discount: 10% off.
Address: 4700 Main St.
Phone: (630) 964-6984
Grounds for Hope Cafe
Discount: 10% off at café, 1 Single-Day Pass, or $5 off KidStreet Playcenter Family Pass.
Address: 2701 Maple Ave.
Phone:  (630) 857-3355
Hand-N-Paw
Discount: Free consultation for new customers, free teeth cleaning for return customers.
Address: 1600 Maple Ave.
Phone: (630) 852-8245
Insight Property Services
Discount: 15% off all services (except Radon and Indoor Air Quality Testing).
Address: 2200 Ogden Ave., 117-128 (Naperville)
Phone: (630) 878-4192
Johnny's Red Hots & Gyros
Discount: Free medium soft drink with purchase of $5 or more, free large soft drink with purchase of $10 or more.
Address: 4713 Main St.
Phone: (630) 512-0652
JR's Place Restaurant
Discount: Free drink with purchase of a sandwich or meal.
Address: 4920 Lincoln Ave.
Phone: (630) 986-5025
KinderCare Learning Center (Eisenhower Lane)
Discount: Free registration.
Address: 1640 Eisenhower Ln.
Phone: (630) 964-1944
Lisle Lanes
Discount: $2.50 per game of bowling (rental shoes not included).
Address: 4920 Lincoln Ave.
Phone: (630) 968-1300
Lucky Wok Chinese Restaurant
Discount: 5% off.
Address: 6452 College Rd.
Phone: (630) 305-8833
Magic Kitchen
Discount: 10% off any order over $30 (Lunch Special excluded).
Address: 2759 Maple Ave.
Phone: (630) 355-7321
Midwest Auto Body of Lisle
Discount: 10% discount (except parts and tax for non-insurance repairs).
Address: 2115 Ogden Ave.
Phone: (630) 852-8318
Modern Music
Discount: 10% off purchase (excludes lessons and rentals).
Address: 1715 Ogden Ave.
Phone: (630) 810-1500
Museums at Lisle Station Park
Discount: Free admission and programs (all the time, suggested donation $5).
Address: 921 School St.
Phone: (630) 968-0499
Naperville Senior Center Adult Day Services
Discount: Buy two weeks of Adult Day Services and get a third week free (minimum two days a week membership).
Address: 1504 N. Naper Blvd., Ste. 120 (Naperville)
Phone: (630) 857-3017
North American Pizza & Culinary Academy
Discount: 10% off class or merchandise.
Address: 1970 University Ln.
Phone: (630) 395-9958
Paul's Shoe Service
Discount: 10% discount on retail items and repairs.
Address: 4710 Main St.
Phone: (630) 968-4249
Pixel Blast Arcade
Discount: $2 off one admission, per Library card.
Address: 1045 Burlington Ave., St. 2-3
Phone: (331) 777-2941
The Room
Discount: 20% discount (Promo code: Lislelibrary).
Address: 4910 Main St.
Phone: (808) 283-6129
The Russian Gift Shop
Discount: 10% off used books.
Address: 1720 Ogden Ave.
Phone: (630) 963-5160
The Stone Center
Discount: 50% off all painted garden rocks and stone jewelry.
Address: 2127 Ogden Ave.
Phone: (630) 971-2060
Verizon Wireless of Lisle
Discount: 35% off all accessories.
Address: 4714 Main St.
Phone: (331) 233-8878
Via Moda Salon & Spa
Discount: 20% off any first-time service.
Address: 1017 Front St., Unit B
Phone: (630) 241-9292
Villa St. Benedict & Benedale Center for Assisted Living
Discount: Complimentary lunch for two with initial visit (call Phyllis at (630) 725-7033).
Address: 1920 Maple Ave.
Phone: (630) 725-7000 (main number), call (630) 725-7033
Walgreens (Maple & Rt. 53)
Discount: 15% off most items (excludes perscriptions, cigarettes, gift cards, stamps, and dairy).
Address: 1010 Maple Ave.
Phone: (630) 353-0252