Financial Information
Budget Overview
The Lisle Library District is a district public Library. A district is responsible for all of its operations, services, staff, and stewardship of the facility. Our fiscal year runs July 1st - June 30th. Financial information is available via the links and resources below.
Check out the complete financial page from our Annual Report 2015-2016.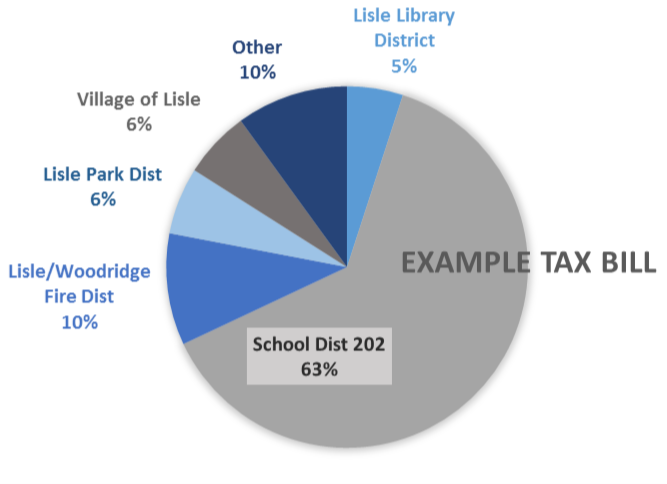 Using an example property tax bill for a home owner in the Village of Lisle, School District 202, the Library portion of the total tax bill is 5% 
Budget Process
The Library develops a proposed working budget. Drafts of the proposed budget are discussed in a series of Committee of the Whole meetings, all of which are open to the public. When a final draft is created, the Board approves a working budget in the spring and that working budget replaces the original draft on the web site.
The legal spending authority is set by the Budget and Appropriations Ordinance proposed in the fall and adopted after a public hearing. Future dates for these meetings will be readily available on our Library Board page.
Financial Information
Current Fiscal Year July 2017 - June 2018:
Previous Fiscal Years:
Disbursement History
General Information
Additional Resources of Interest
There are a variety of different types of libraries across the United States including corporate, special, law, medical, school, public, art, etc. Each type of library may operate differently, and be subject to different operational procedures and practices.
Public libraries in Illinois may be a municipal, town, village, or a district and are subject to different types of administration and governance.