LLD Earth Flag
LLD EARTH FLAG
On September 16, 2020, the LLD was officially awarded an Earth Flag by SCARCE.  SCARCE Executive Director, Kay McKeen and DuPage County Board member, Liz Chaplin, attended the LLD Board of Trustees meeting to present the Flag and read the official Resolution of Commendation from DuPage County Chairman, Daniel Cronin.
To earn the Earth Flag, the LLD had to achieve a number of objectives. Ms. Chaplin read aloud some of those accomplishments: 
"I am so happy to be here tonight to present the Earth Flag Resolution. Earning the Earth Flag is a huge accomplishment that takes a lot of work and dedication by the staff. I want the staff and the community to know what a great accomplishment this is and everyone should be very proud. I'm going to read off all the work the staff has done to receive the Earth Flag..."
Comprehensive Recycling Program
Staff Education
Patron Education
Educated patrons on proper recycling practices – hosted the Where Is Away? exhibit
The Library has upgraded lighting to LEDs, T- 8s, T-5s, and CFLs
The Library has a cool roof to help with the urban heat island effect
The Library also recycles its electronics, scrap metal, and batteries
Updated their HVAC system in the Fall of 2019
Has syringe collection bins in their bathrooms for staff and patrons
The Library donates books to Better World Books
Has used book sales
Handles hazardous waste appropriately
Uses eco-friendly deicer
Library employees use reusable mugs, dishes, and utensils
Has reusable bags available for patrons to use
Library has all low flow toilets and faucets with automatic sensors
---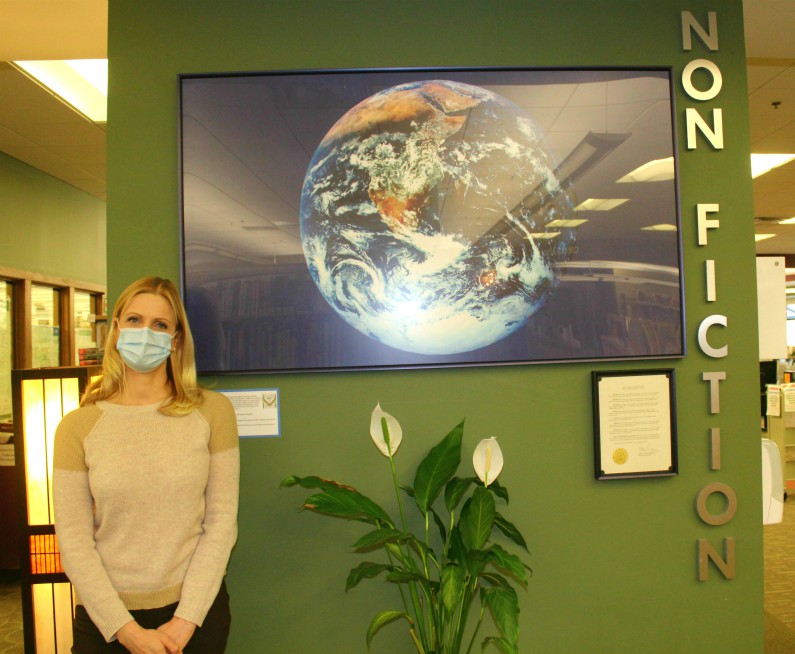 See the LLD Earth Flag Up Close!  The LLD Earth Flag waves outside of the Library on Front Street, and we've also had a Flag framed for patrons to enjoy inside! This photo of Earth was taken in December of 1968 by astronauts on Apollo 8.  It is the first photo of Earth from space. Amazing, isn't it?