Summer Reading Picks
Here are a few of our pics from the Lisle Senior High Summer Reading List!  Books are grouped by class. 
We have copies of all the books on the list, and we have some of the titles as audiobooks and downloadables.  If you're still struggling to pick the perfect book, need moral support, etc., stop by and ask our helpful staff!
English I
Beekeeper's Apprentice, By Laurie M. King, M KIN, CD M KIN
The first in a mystery series that pairs 15 year old Mary with Sherlock Holmes for a detective escapade!  If you like mysteries, detective stories, Sherlock Holmes, or are looking for a strong female protagonist, this book is it!  We have the book and audiobook!
Tuesdays with Morrie, By Mitch Albom, 378.12 ALB, CD 378.12 ALB
If you need an inspirational and thoughtful read, check this out!  Tuesdays with Morrie relives the author's conversations with his late mentor and personal guru to share with the reader his life lessons.  Read or listen!  
Monster, By Walter Dean Myers, Jh MYE
Monster is a fast-paced, suspenseful book, written as a screenplay with snippets of journal entries throughout.  It is a thoughtful portrayal of a teen who is, possibly unjustly, on trial for a theft.   
English II
Watchers, By Dean Koontz, F KOO
Menacing and suspenseful?  Two genetically enhanced creatures escape a laboratory and terrorize, or befriend, those they encounter.  This book is credited with cementing Koontz's best-seller status, and even though it is a thriller, it's also an exploration topics of love and trust (Awwww).
Girl in Translation, By Jean Kwok, F KWO, CD F KWO
This novel tells the story of Kimberly, who emigrates with her mother from Hong Kong to Brooklyn, and her struggle to fit into two worlds, deal with the pressures of school, and help lift her family out of poverty.  If you need a bittersweet read, look no further!  We have the audiobook and book!
Lightning Thief, By Rick Riordan, Jh RIO, CD Jh RIO
Action-packed, fast-paced fantasy here!  Follow Percy Jackson, son of Poseidon, god of the sea, as he transfers from boarding school to a summer camp for demigods and becomes involved in courageous and dangerous pursuits!  Read or listen!
English III
Incarceron, By Catherine Fisher, TN FIS
Fantasy+Dystopia+Steampunk = Incarceron!  Incarceron is a futuristic prison with a mind of its own and Claudia's father is the warden of this prison.  But, to escape from an arranged marriage, she decides to help a prisoner escape.  This book has world-building, suspense, and satisfying twists.   
Slaughterhouse Five, By Kurt Vonnegut, F VON
If you're looking for dark humor and quirkiness wrapped up in a war-story / alien-story blend, Slaughterhouse Five is…well…probably the only book in that list.  This tells the story of Billy Pilgrim, recently returned from WWII when he is abducted by aliens.  Throughout, Vonnegut addresses issues such as fate, human nature, and war. 
Go Set a Watchman, By Harper Lee, F LEE, CD F LEE
If you enjoyed To Kill a Mockingbird, here is the more recently published early draft of that book.  Meet grown up Scout!  This book looks at the trial of Tom Robinson years after it happened and Scout returns to her hometown as an adult to visit her father and remember her childhood.  This is an interesting look at Harper Lee's craft of writing and revising, as well as a look at racism in the south during the 1950's.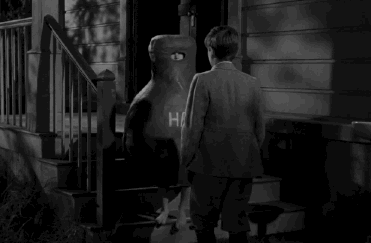 (Because I will use any excuse possible to include this gif! 
)
Senior Electives
Shoeless Joe, by W.P. Kinsella, F KIN
This book inspired the film Field of Dreams.  A nostalgic look at baseball, family, and home, Shoeless Joe is great for those looking for a heart-warming sports book. 
Water for Elephants, By Sara Gruen, F GRU
A ninety-year old man recalls his time in the circus, and the friendships he made there.  This book has romance, circus life, nostalgia, and elephants! 
American Born Chinese, By Gene Luen Yang, Jh GN YAN
Read a graphic novel!  Through colorful images and text, American Born Chinese tells the story of three Chinese Americans interacting with pop culture.  This graphic novel even won multiple awards when it came out, so it must be good, right?!
AP Language
In Cold Blood, By Truman Capote, 364.1523 CAP, CD 364.1523 CAP
The first of its kind, In Cold Blood began the now popular true crime genre.  This tells the true story of the murder of a family in Kansas in 1959.  It explores the murder itself, the trial, and conviction, and it does so with detail, suspense, and empathy.     
Maus, By Art Spiegelman, GN 940.5318 SPI
It's a graphic novel!  This is an autobiography of sorts about a son coming to terms with his parents' experiences during the Holocaust.  The characters are represented as cats and mice, but the story is more along the lines of somber and moving.
Autobiography of X, By Malcolm X, 297.87092 X
Malcolm X's autobiography reveals his political philosophy, his life, and his influence.  If you've ever been curious about the significance of Malcolm X during the Civil Rights Movement and today, his autobiography provides a candid and reflective look. 
AP Literature
Hamlet, By William Shakespeare, 822.33 S7 EDW, 809 Shakespeare, CD 822.33 SHA
To be or not to be!  It's a Shakespearean play.  It's a tragedy.  Everyone dies in the end.  But, ah, the language!  The Shakespeare!  (Or maybe that's just me…?)  Hamlet's father dies; Hamlet's father visits him as a ghost and insists he seek revenge; then it gets intense.  We have a copy of the No Fear Shakespeare version of this play at the library, and it has the original text right along-side a modern day version – super handy!
The Picture of Dorian Gray, By Oscar Wilde, F WIL, CD F WIL
Classic gothic horror right here!  Prepare yourself!  Dorian Gray doesn't age; he remains his beautiful young self.  But, his portrait decays in both appearance and in the revelation of his soul as he pursues a life of corruption!  Enjoy! 
How to Read Literature Like a Professor, By Thomas Foster, 808 FOS
Reading about reading: very meta! An introduction to literature and the elements of literature, How to Read Literature Like a Professor discusses tips and tricks for delving into the texts you encounter.  Why is the character walking down a dusty road?  What does it meeeaaannn??  Figure it out here!
Happy Summer Reading!